On bans on cruise liners: logical, not very clear, and very strange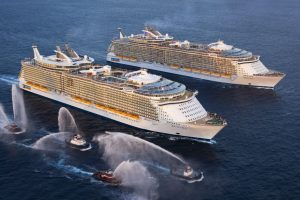 The phrase "maritime order" is not just a figure of speech. For a long history of navigation, a certain set of rules of behavior at sea has developed, these rules also apply to cruise liners …
On bans on cruise liners: logical, not very clear, and very strange
Some of these rules and prohibitions are quite logical and understandable even to a "land" guest of a sea vessel, others look strange, and some may seem absurd in general. But be that as it may, they are dictated by concern for the safety, health and comfort of tourists and crew members, and from the moment you find yourself on board the ship, you will have to obey them.
While it is clear …
Some bans simply duplicate similar ones that exist in ordinary hotels. For example, the prohibition to take "as a souvenir" from the cabin towels and other items that are provided during the cruise. Or make notes and drawings on the walls (in a maritime "bulkhead") cabin. Lovers to violate such bans will always be found both on land and at sea, but in general they are understandable to most tourists. As well as a ban on smoking during a flight is everywhere, except for specially designated places. True, some cruise companies allow smoking on the balconies of the cabins (but not in the cabins themselves!).
A fire on a ship on the high seas is much more dangerous than on the coast, so you should be sympathetic to the fact that fire safety rules on liners are very strict. You will not be allowed to iron the laundry in the cabin, or use the hairdryer in the bathroom (there are often no outlets). And on the liners of the cruise company CARNIVAL, you can generally take a hairdryer until the end of the journey. Rigid, but logical: the power supply on the vessel is autonomous, the power installation is relatively low-power, and with the simultaneous switching on of many electric appliances a short circuit may occur.
… not much further
The dress codes of various cruise companies, including making a lot of noise on the Net, a ban on wearing jeans, are difficult to explain with some kind of objective necessity. However, such a ban applies to cruise liners of Azamara Club Cruises and some other companies. In the dining area and restaurants, tourists are forbidden to appear in jeans, as well as in shorts, slippers (and barefoot), T-shirts, beach hats and baseball caps. The dress code requires tourists to wear trousers, shirts and dresses that cover the legs before eating. Ties, tuxedos and tails are not being talked about yet …
Concerned about the threats of terrorism, drug trafficking, and the spread of infectious diseases, cruise companies are trying to limit personal contact between passengers and the liners' personnel to the maximum. Such contacts should not go beyond purely official relations. Further all in this direction, the company promoted Crystal Cruises, banning even a handshake between passengers and crew members.
From the same category of not very understandable – a ban on passengers of Disney Cruise Line to take on board certain video game systems. That is, the gadgets themselves can be taken on a journey, the ban is imposed only on connecting them to the TV …
When logic is powerless
And, finally, a ban, which has no logical explanation at all, even in the form of a hypothesis. On cruise liners, Windstar Cruises is prohibited for children under eight years of age, and each passenger under the age of 21 must be accompanied by an adult not younger than 25 years old. Thus, the travel ban applies to people who themselves can have children, serve in the army and vote.
All of these prohibitions, even without a logical explanation, on a cruise ship have the status of a law. They can be indignant, you can laugh at them, but it is more reasonable to go to the cruise company website at the planning stage of the trip and get acquainted with its policies. It is not excluded that there are other surprises prepared for you, it is better to know about them in advance.