Top expensive and cool villas of Thailand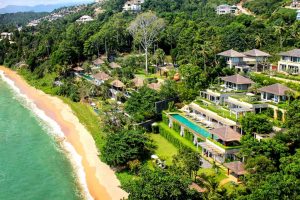 Thailand can be safely attributed to the most popular holiday destinations among Russian tourists. Students, families with children, entire firms and corporations come here. Phuket has become a kind of alternative to inexpensive island tourism. If desired, and a share of luck, fly away to fabulous beaches and spend a week under the hot Asian sun for as little as $ 500.
But today, let's dream a little. At least for a minute we plunge into a completely different Thailand, for the elect.
Ladies and Gentlemen, we present to your attention a selection of the most expensive, exclusive and chic villas in Thailand, where the entrance is forbidden to mere mortals.
5th place. Villa Sangsuri I. From 2000USD per day
Villa Sangsuri I
In fifth place is a private villa in the heart of the tourist area of ​​Chaweng on Koh Samui. Sangsuri I includes 7 bedrooms, 10 bathrooms, a 22-meter outdoor pool, a yoga club, a cinema and a jacuzzi for six. And all this is entirely yours.
Each bedroom has its own access to the terrace, air conditioning, satellite TV, Wi-Fi, mini-bar.
Sangsuri I offers stunning views of the ocean and private beach with hammocks, a gazebo and a playground. Here you risk saying goodbye to a beautiful figure: delicious food and a complete lack of physical exertion. I woke up in the morning, drank a cup of coffee on the terrace and went to the beach!
4th place. Villa Kalyana. 2500-6000USD per day
Villa Kalyana
Villa Kalyana is chosen by those who appreciate personal space. Kalyana hid on the southern coast of Koh Samui in a secluded bay.
Just imagine that there is nobody around. No annoying crowds of tourists. No hum, dust and city fuss. You, the villa and the palm groves.
Designers embody the most daring ideas:
12 meter pyramid shaped roof.
Pavilion for recreation with carved wood.
Outdoor pool 300 square meters.
Personal children's play area.
Huge outdoor barbecue terrace.
Private beach with guest bungalows.
26 bedrooms for 50 people.
Bathrooms with open marble baths and waterfalls.
But that's not all. The villa "attached" service personnel from the gardener to the team of waiters.
3rd place. Villa Alilla. 2700-8700USD per day
A house in Phuket overlooking the Andaman Sea, elegantly inscribed in the landscape of the jungle – Villa Alilla. And let, you are not confused by the comparison with the "house". Alilla is a complex for the rich, with spacious semi-open villas.
7 bedrooms, numerous terraces, a chef and waiters, breakfast, lunch and dinner by the sea – these are just a few arguments in favor of the villa.
The complex has a gym and tennis courts, SPA and billiards, playgrounds and an outdoor pool the size of the 747th Boeing.
Guests of the villa may not even bother about the entertainment program. Bars, restaurants, guides – everything is in place.
2nd place. Villa Iniala Collector's. 3000-10000USD per day
Villa Iniala Collector's
Most likely, you are now tormented by the question of what should be in a villa to pay for it 10,000 dollars a day.
First, the interior creates a famous designer. Preferably not one, but four at once. The living room in nautical style is encrusted with 3000 ceramic plates. In the center is a soft sofa with starfish, a shimmering ceiling, golden teak cornices and a courtyard with massive columns.
Secondly, the villa must have a crystal dining room. No, not glasses of crystal, but all of crystal. Why trifle?
Thirdly, the chef and waiter no longer surprise anyone. Each guest of the villa has a personal driver, spa therapist, butler and housekeeper.
The villa has several themed blocks:
White suite will give an atmosphere of carelessness. The room is made of whitewashed wood. Naturally, it is complemented by a terrace, hammocks and a gazebo.
The second block is a mixture of French ash and granite.
The third palace suite "Boudoir" is replete with silk, crystal and pompous chandeliers.
Guests of the complex can try kayaking, canoeing and Thai boxing.
1 place. Villa Ani Villas. 6000-18000USD per day
Villa Ani Villas
The leader of the selection of Villa Ani Villas. This is not just a villa, it is a royal residence on the coast of Koh Yao Noi. From the windows of the villa overlooking the Phang Nga Bay. And at the disposal of guests 8000 square meters of personal space.
Designers did their best. Ani Villas recreates the interiors of the Buddhist temples of Northern Thailand.
Guests of the villa are not limited to anything:
10 bedrooms with a capacity of 20 people.
5 guest houses
42-meter pool, smoothly "flowing" into the horizon line and "slipping" into the ocean.
Diving, surfing, kayaking and boat rafting.
Absolute independence from the outside world. Personal chef, personal trainer, personal "dust blower".