Beach holiday in Israel: 14 beaches of Tel Aviv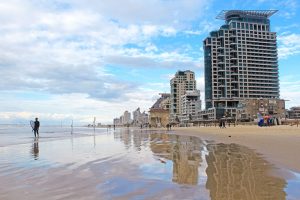 Modern and dynamic Tel Aviv is the center of the largest Israeli agglomeration of more than a dozen settlements, with more or less conventional boundaries …This is the most tourist and most rave city of the country, with a beautiful long pedestrian promenade and a variety of beaches. The total length of the coastline is about 12 kilometers, the width of the beaches is 100-150 meters. The beaches are stretched from north to south and smoothly pass into one another. The site gk-apartments.com, specializing in renting accommodation in Tel Aviv, will tell in this article about fourteen popular beaches in Tel Aviv.
Ha Zuk (Hazuk)
The only paid beach of Tel Aviv is located near the northern border of the city and is removed from the tourist area and hotels.
Entrance fee for adults – 12 shekels, for children – 8 shekels, and for residents of Tel Aviv, admission is free. Ha-Tsuk is most popular with businessmen and Israeli stars. On the beach there are two large lawns for picnics, a library, and free, large parking for visitors.
Tel Baruch
This beach is considered one of the most picturesque and clean in the city.
There is a wide walking area and lawn. The northern part of the beach with picturesque dunes is popular with couples in love, and in the south there is a dog walking area and water bike rental.
Metzitsim
The famous beach of Tel Aviv, about which the comedy film of the same name was shot.
Translated from the Hebrew "metsitsim" means "peeping." This beach is especially loved by Israeli families with young children and young people. Beach visitors have access to free Wi-Fi. There is a large beach library of 500 books in 5 languages, including Russian, at Metzitzim.
Nordau (Nordau Segregated Beach)
The closed beach of Nordau is intended, first of all, for ultra-orthodox Jews.
On Sundays, Tuesdays and Thursdays, Nordau is open only for women, and on Mondays, Wednesdays and Fridays – for men. Non-religious women come here on women's days to sunbathe topless. The beach is equipped with children's playgrounds, there is a convenient access under a canopy for disabled people. On Saturday, Orthodox do not visit the beach, so they can enjoy secular people of both sexes.
Atzmaut (Atzmaut)
Behind the metal wall of the Nordau beach is located the most "free" beach of Tel Aviv.
Hetzmaut is especially popular with non-formals and representatives of non-traditional sexual orientation, dog walking is also allowed here. Thanks to the breakwater, the water at the shore is very calm, comfortable for swimming.
Hilton Beach
The beach is located next to the Hilton hotel.
Unlike most of Tel Aviv's beaches, Hilton Beach has free parking, and dogs are allowed in the northern part. The bathing area is fenced with a breakwater, so the sea is always calm here, and the depth is small. However, it is not always safe to swim here: there is a surfers club nearby that starts at sea from Hilton Beach.
Gordon (Gordon)
The beach with sports equipment, a volleyball court and a tennis court is popular with both tourists and locals, so it is full of people on holidays and weekends.
On its territory there is a beach library, as well as a counter with ice cream, a cafe, a cocktail bar and a restaurant. Every Saturday, dances to the music of Israeli performers are held on the beach for everyone. Next to the beach is a 50-meter open sea-water swimming pool. The pool is only available in summer. The cost of a single visit – 65 shekels.
Frishman
This beach is the continuation of Gordon Beach, located opposite the American Embassy.
There is almost no entertainment, so few visitors. Nearby there are several cafes and restaurants with panoramic windows and panoramic terraces. The beach is open all year round: even in winter there is a rescue team on duty.
Bograshov (Bograshov)
Visitors to this small beach are mostly French, German and Russian tourists from nearby hotels.
There is free Wi-Fi, but the signal strength is weak. In the beach cafe La Mer, you can enjoy traditional Israeli dishes, comfortably seated in the hall with a panoramic view or at a table right on the beach.
Jerusalem (Jerusalem Beach)
The beach is located next to the futuristic building of the New Opera.
It is mainly visited by Israeli schoolchildren, retirees and illegal immigrants. There is a lot of garbage on which pigeons flock. Yerushalayim spoils the reputation of the beaches of Tel Aviv and is not recommended for tourists to visit. The advantage of the beach is that there is a good coffee shop and humus next to it.
Banana Beach
One of the calmest beaches in Tel Aviv is ideal for relaxation.